Where's the Scoop Unveils its New Café Industrial Design

Gourmet ice cream parlor updates its look with industrial style restaurant tables, metal restaurant chairs and matching metal bar stools.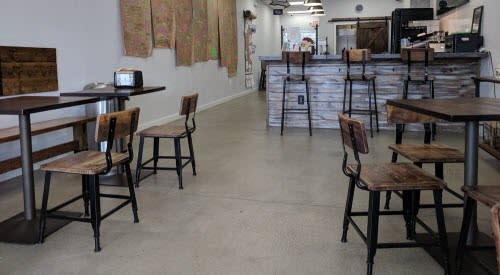 Bringing new Thai ice cream flavors and a industrial design to their John Creeks' location, owners Zak Khimji and Zein Rahemtulla created neighborhood café for adults and children where they can indulge in a variety of handcrafted products. Their menu ranges from a selection fresh farm rolled ice cream to freshly brewed bubbles teas along with specialty drinks and coffee beverages. Ice cream menu features endless combinations to create a custom flavorful experience through seasonal ingredients as well as fresh fruit. Just like their location, Where's The Scoop's continues to expand their menu creating new recipes and products derived from locally sourced and seasonal ingredients. Ultimately, they aim to serve the community with highest quality ingredients made from scratch which they take great pride in. Having been in operation since 2017, Where's The Scoop only knows success which they attribute to their commitment to staying local, natural and fresh all season.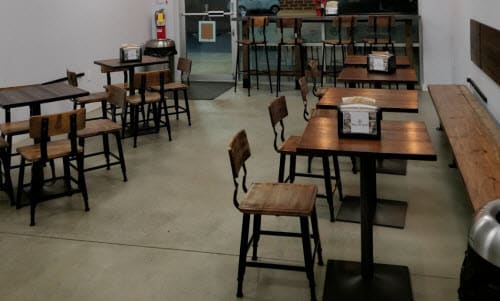 Where's the Scoop is a safe haven for those with a sweet tooth but are also conscientious of what they put in their bodies. The products are made and customized to accommodate dietary restrictions and food allergies. Non-dairy, vegan, plant-based ice cream selections are also included in the menu inspired by children that wanted the flavors to resemble that of dairy ice cream. Khimji has also raised the bar for dairy consumers by sourcing from a local farm that specializes in A2 milk containing proteins that make ice cream more digestible for those with lactose sensitivity. Their ice cream is all local and flavor based, it doesn't have any preservatives, additives and gluten! They each are rich in flavor but not overly sweet or caloric.
Not only has Where's The Scoop earned its claim to fame through serving up their locally sourced enjoyed creations, they also host social events and offer catering services. Simple and classic décor enhanced by the industrial style restaurant furniture, Where's The Scoop wants to provide a warm, inviting and relaxing atmosphere for visitors. With a new set of Industrial Series restaurant tables paired with metal restaurant chairs and matching metal bar stools supplied by RestaurantFurniture.net, Where's The Scoop was able to achieve the rustic and industrial décor they wanted for their ice cream shop, creating the perfect environment for get-togethers of any kind. Within walking distance of Newton Park and many surrounding neighborhoods, Where's The Scoop is quickly becoming a favorite destination for locals and visitors every day.
RestaurantFurniture.net is an online commercial grade furniture distributor servicing the food and hospitality industry for over 10 years. Our diverse selection of restaurant furniture is offered in a variety of materials and styles suited for any motif and decor. Our high-quality, well-designed products are durable, practical and competitively priced. Browse our site to learn more about our restaurant furniture.
Products Related to this Article